New member's portal/member management system
WE ARE GETTING CLOSE…
Lots of work has been going on behind the scenes to set the ground work for the new Members' Portal and now the building begins. The ProfNet team is creating the necessary aspects (in collaboration with SAOPA) to bring you a fantastic, streamlined, easy to use new Member Management Portal with new features and benefits.
These include an alert to new postings, a document library for industry information, an events and calendar management module, discounts and much, much more. Depending on your membership status you will also enjoy access to an intelligent and sophisticated ICD-10, Procedure, Tariff & NAPPI code search.
 Additionally we will be bringing a dedicated ProfNet Administrative Team on board to assist with queries and support SAOPA Members and the Chief Operating Officer. Launch date is expected to be early Spring
---
Exciting Job Opportunity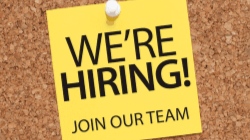 Chief Operating Officer
Applications are open …
The South African Orthotic & Prosthetic Association is looking for a dynamic candidate to fill the position of Chief Operating Officer to take them into the next phase of re-building. The Chief Operating Officer will facilitate and assist the Chairperson and National Executive Committee in all executive strategic processes. The Chief Operating Officer will act as the head of day to day operations and key improvement strategies. They should be able to formulate strong operational standards and should have a strong work ethic, good governance and administrative skills with a knowledge of the workings of the O&P industry.

POSITION SUMMARY

The successful candidate will need to provide enterprise-wide operational and strategic oversight of SAOPA, working under the leadership of the Chairperson and the National Executive Committee as well as with members, funders, suppliers, statutory bodies and other stakeholders. The successful candidate will be responsible for working throughout the organization to develop and implement strategies that improve members services, build brand recognition, produce member value, encourage best practices, propel change management, improve operational effectiveness, encourage innovation, and drive revenue generation. The position is also responsible for Membership and Marketing, and Governance with an emphasis on communication and public relations.

Remuneration will be based on experience and an initial contract period of six months.

If you feel that this is the future for you and you meet the above requirements, please send your CV and a motivation to info@saopa.co.za with the subject "COO application".

Applications close Friday 16 July 2021
Otto Bock Update
We have received confirmation from the HPCSA that they will be investigating the possible "Undesirable Business Practice" with regards Otto Bock South Africa. This is following concerns of members who bought this to SAOPA's attention earlier in the year. An initial communication was made after legal consultation regarding possible contravention of the Competition's Act (of which there currently was none) but a further request was submitted to the HPCSA regarding transgression of their regulations. We will keep you informed as to further developments.
Road Accident Fund – Tariff List Update
We have unfortunately had no response to the correspondence regarding our request (apart from acknowledgement thereof) and are following up. Additionally, we are requesting an engagement to discuss the ongoing out-dated pricing, reduction of prices by RAF without justification or swift payment guarantees and non-responsiveness.
This matter is receiving our urgent attention and we will keep you updated of further developments.
Reminder
SAOPA is assisting in compiling this registry of the frontline staff of healthcare practitioners who require vaccination.
This information will be provided to the Department of Health once their registration system is open to frontline staff.
---





Webinar – COIDA

We are excited to confirm that Lothian Basson will be presenting this month's webinar regarding Chronic assistive devices. He will be covering the O&P supply protocols; new forms; AMPRO/AMPnoPRO test overview and document submission. This will be followed by a Q&A session with the rest of the COIDA team.

Please note: no financial or billing queries will be addressed.

Once again, this webinar will be free of charge for SAOPA members, but is open to all. Non-members will be charged an attendance fee of R350 which will need to be paid in advance.

Date:  Monday 26th July 2021   
Time: 17h10 – 18h10

Book Now >
---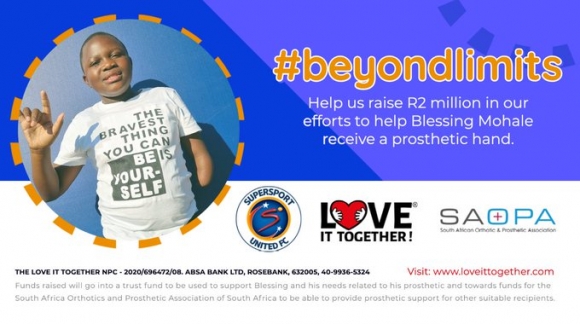 The Love It Together Foundation, SuperSport United FC and SAOPA are running a Beyond Limits campaign to raise R2 million of funds that will enable Blessing Mohale to receive a prosthetic arm and will also contribute to help other underprivileged amputees and those born without limbs. 

Please visit www.loveittogether.com to pledge now ! 
---
CPD Event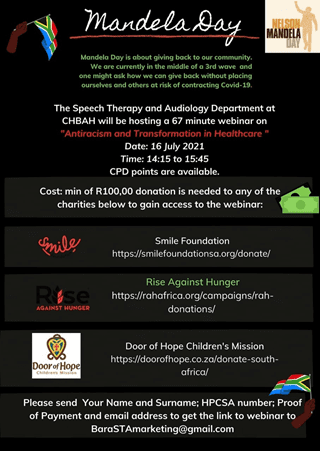 ---